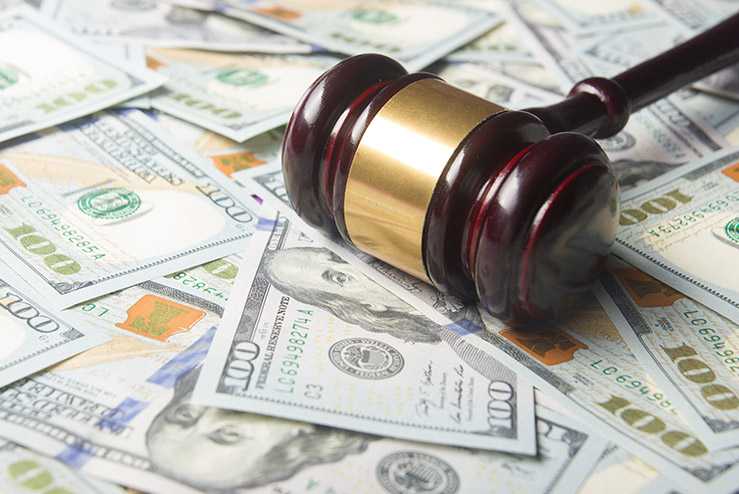 Ten Steps to Find Out What Your Case is Worth
Probably the most common question we receive on a day-to-day basis when talking with accident victims is "How much is my case worth?" In short, the severity of your injuries and the amount of your medical bills that correlate with those injuries is usually the biggest factor in determining the value of your case. However, there are many different variables that weigh into the true value of your case, and it's important you understand them so the insurance company does not take advantage of you. Here are 10 factors that play a role in determining your case value:
1. How much Property Damage did you have? 
Although Property Damage is a separate claim in itself and an unfounded legal causation when determining your injuries, insurance companies still tend to pay out more on your injury claim if you have a higher amount of property damage.
2. Who is the Insurance Company on the other side? 
Not all insurance companies operate the same. Some companies are more generous than others because they do not want to go to court, whereas others will happily go to court believing the majority of people will settle for less before a trial even happens. In addition, some insurance companies try harder than others to keep a good name (and some couldn't care less).  Overall, every insurance company wants to save money, but they all calculate risk differently. 
3. How did the accident happen and who caused it?  
If your accident was very serious and involved a highly irresponsible driver on the other side, insurance companies may be more prone to offering a higher settlement. For example, if you were hit by a drunk driver while your kids were in the back seat, that is the last type of case the insurance company wants to defend. They know their insured was wrong and defending it will not be worth the effort, especially in a court of law.
4.  What are your injuries? 
Whether your injuries are major or minor, you are still entitled to a bodily injury settlement, but the value is drastically affected by how severe the injuries are. If one person has broken bones and another has a slight sprain, the person with broken bones should expect a much higher settlement. The more severe your injuries are and the more injuries you have, the higher the settlement will likely be.  
5. How much reasonable and necessary medical treatment did you get? 
Typically, the amount of treatment you receive determines how hurt you really were. Insurance companies always look to see how seriously you treated your injuries. If you stopped seeing a doctor after one or two visits, the insurance company will not take your injury claim seriously. Additionally, it is important you receive treatment that is reasonable and necessary for a car accident. If you pursue treatment outside of what Texas Law considers to be usual/customary/reasonable and necessary then most insurance companies are likely to deny paying for some if not all of those services, leaving you responsible for the charges that they are unwilling to consider.
6. Were your medical records documented properly?  
Even if you break your leg or crush your spine to pieces, if it's not documented and you did not pursue reasonable and necessary medical treatment for it, it means very little. If you are hurt, you need to get the proper treatment and make sure your records are documented accordingly. When it comes to negotiating your case, you need to have that leverage in the fight. You or your lawyer can point to the treatment and types of injuries shown on your medical records as ammunition in the negotiation battle. It is important your doctors are recording every ailment the accident has caused, so it's also important you tell your doctors everything bothering you, big and small. 
7. How much are your reasonable and necessary medical bills? 
If your bills are at reasonable costs and align with reasonable treatment, the value of your case continues to increase in accordance with the treatment you receive. Insurance companies do not give "what if" offers. You cannot ask them for an offer based on treatment you may or may not get. You need to pursue the necessary treatment for your injuries so that those bills will be factored into the value of your case. 
8. How much coverage in policy limits is available to you?  
Every insurance policy has a certain amount of coverage on it. The minimum limits policy in Texas is $30,000 per person and $60,000 per accident, but it can range up to over $5 million.  But those limits are important…  if your case is worth $100,000, but there is only $30,000 in policy limits, you will not be able to receive any more than that (except in rare cases). It is important you find out what the policy limits are in your case so you or your attorney can keep track of how much your medical bills are. Some drivers have extra coverage on their own policy that can help.  
9. How did your accident affect your life?  
Texas law allows for something called "Loss of Enjoyment" to your life.  You may have the same exact injuries as someone else, but if your life was affected more than theirs, the value of your case can go up. It is important you keep a close eye on how your life is affected along the way.  Everything from a relationship struggle to a missed vacation can play a factor in the value of your case.  
10. Do you have a lawyer?  
Even if you know the law front and back and know exactly how to pursue personal injury cases in Texas, the presence of a lawyer in your claim carries a lot of weight.  Insurance companies will be much more likely to give higher offers to lawyers because they know that good lawyers can take them to court and potentially go after even more if they don't act fairly. In addition, an experienced attorney knows how to properly evaluate your case and will demand every penny you are entitled to. Insurance companies are not going to help you. You are in a fight and the insurance company will always look to see who the fighter is on the other side and whether or not they want to mess with them.
If you've been in a car accident, commercial vehicle or trucking accident or sustained catastrophic personal injury in the State of Texas, talk to Bormaster Law today to see how we can help you get the compensation you're entitled to.
Don't Hesitate to Ask...
Get a Free Consultation
We're here to help. Whatever your legal or financial dilemma is, don't wait-- get in touch with us today and allow us to offer a 100% free consultation on your case.
Fill out the form above to receive a free and confidential initial consultation. Don't worry, we will never share your information or use it to send unwanted communication.